Outlaw Audio Ultra-X12 Subwoofer, $639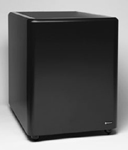 "Outlaw has released its first new subwoofer in over a decade, and the Ultra-X12 proves to be worth the wait. This ported subwoofer sports a down-firing 12-inch driver and a 350-watt Class HD amplifier, with better internal bracing to improve mid-bass response. Best of all, the Ultra-X12's asking price is just $639."
Click here to read more!

Home Theater Review raves about our Model 7900!

"Precision, control and more power than any amp I've reviewed thus far. That's what I wrote in my listening notes, and then I went back and watched this scene three more times. That's big praise." -Sean Killebrew
Click HERE for the entire review!

Get Amplified Wireless Audio via the OAWA-3!
Designed by and engineered for the Outlaws, the OAWA3 Amplified Wireless Audio System includes a pair of compact wireless adapter units. The OAW3 transmitter included with the OAWA3 powered receiver is smaller than a deck of cards, and the OAWA3 Amplified Wireless Audio Receiver is smaller than your typical router
Click here to learn more!